VRC-60: Vertical Rotary Cartoner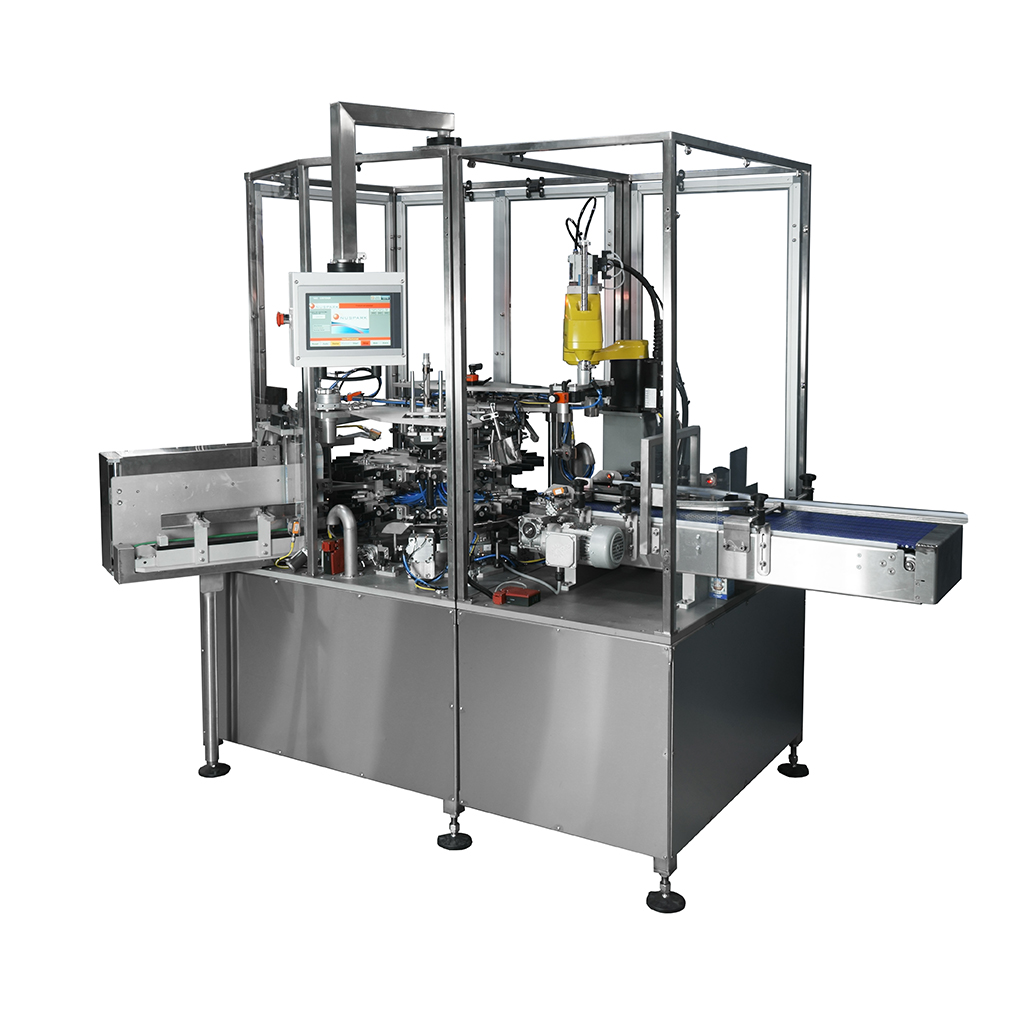 VRC-60: Vertical Rotary Cartoner
Body
They say big things come in small packages.
Introducing the VRC-60, vertical rotary cartoner, a fully automatic cartoning machine, featuring several industry-first advancements that achieve superior repeatability, reliability and speed while maximizing equipment versatility. Its speed is derived from a 12-position indexer that easily generates an output of 60 cartons per minute. The 12-station turn-table design accomodates loading, leaflet/promo feeding, coding and inspection all in one compact 1m x 1m (3′ x 3′) footprint.
The affordable VRC-60 automatic carton packing machine features unique carton feeder, erects cartons into specially-sized buckets that hold the cartons in place with integrated suction cups throughout the entire arc path of the machine. This one-of-a-kind design eliminates friction between rails and cartons and prevents scuffing and scratching of delicate carton surfaces. Also, because the buckets are held in place with magnetic detents, carton changeover time is minimal requiring just a single operator and no tools!
Ideal for speeds up to 60 cartons per minute, the VRC-60 will also save you valuable floorspace and money. With special attention given to the quality finish of the cartoner, "GMP" seekers will appreciate its table-top design, separation of drive area from product handling area as well as its stainless steel frame and cladding.
All these features at an affordable price makes this small vertical cartoning machine a big winner.
Technical Parameters
Power Consumption
15 A
Electrical
120 VAC / 1 PH or 240 VAC or 3 PH
Compressed Air
80 psi / 10 cfm
weight
350 kg./ 770 lbs approx.
Special Features
Special Features
12-station turn-table design
Carton loading, leaflet/promo feeding, coding and inspection all in one
compact 1m x 1m (3′ x 3′) footprint.
Carton magazine holding up to 700 cartons
Allows for either automatic or manual loading
Carton feeder, mechanically linked and times to the main drive
Buckets are constructed from either plastic or stainless steel
Cartons held in place with integrated suction cups, preventing scuffing
and scratching
Packaging Products: Tubes, Cylinders, Blister packs, Bottles, Pouches,
Sachets, Nutri-bars,Small containers, Granular/powders