Pressurized closure delivers at time of consumption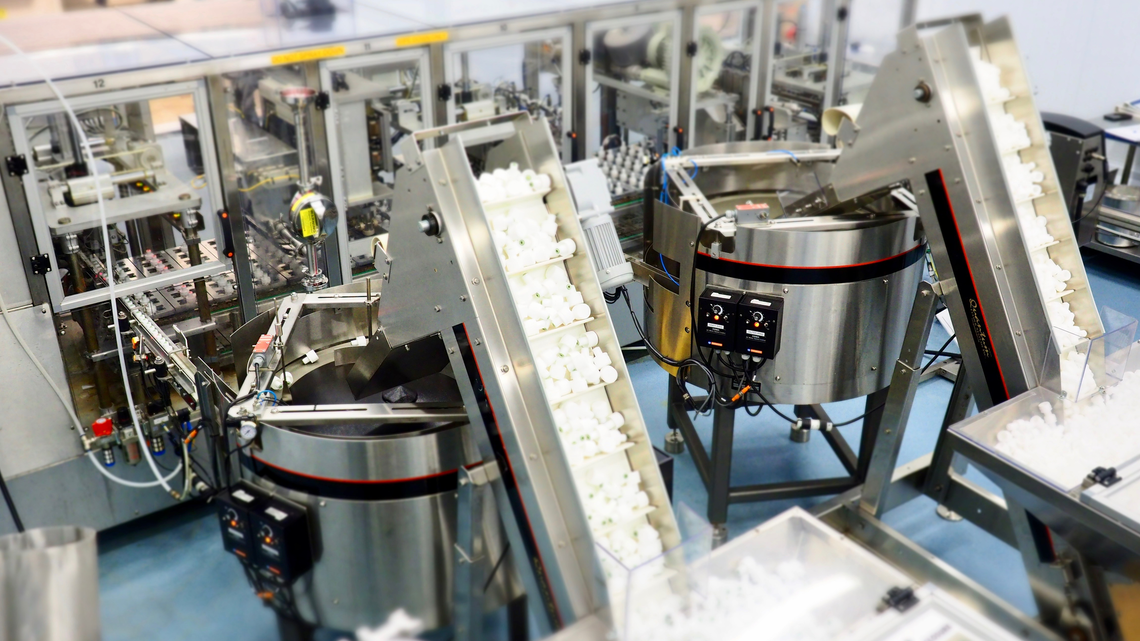 Pressurized closure delivers at time of consumption
Unique products made possible with creative automation solutions
Vessl's product is utterly unique, in fact, they are the sole worldwide master patent holder of this technology. To bring the product to market they needed a partner that can create an equally unique packaging and assembly solution. Learn more about the precise dosing, nitrogen purged capsule created by Vessl and the equipment that made it all possible.
Case Study Content
Pressurized closure delivers at time of consumption
Vessl Inc. has the worldwide master license to a patented closure technology that could upend the very way we think about bringing a wide variety of liquid products to market.
Author – Pat Reynolds, Packaging World Magazine
What if a unique closure technology could make a dent in the ongoing proliferation of disposable plastic bottles? What if said technology provided precise dosing? What if, with no need for refrigeration or chemical preservatives, the technology optimized the potency of sensitive ingredients until the moment of consumption?
Welcome to VesslTM, a threaded closure that includes an oxygen-depleted and nitrogen-pressurized tank designed to hold a precise volume of concentrate or active ingredient that is released automatically when the consumer twists the closure open. The whole idea is to keep active ingredients fresh and protect them from oxidation and harmful exposure to UV light. In doing so, key ingredients like antioxidants, vitamins, and natural flavors remain at peak potency. All it takes is a twist of the closure to release the active ingredients into the base liquid.
First to capitalize on Vessl technology was Vessl's own line of ready-to-drink single-serve 16-oz teas called Tea of a Kind. Vessl is also used on 12-oz bottles of Amway's NUTRILITETM Phyto2GO Immunity Drink, which is sold in 32 countries worldwide, the most recent addition being China. And just now reaching store shelves in states where cannabis is legal is a cannabis cocktail called KalvaraTM. Vessl is uniquely effective at storing and preventing the degradation of THC, the active ingredient in cannabis, without requiring refrigeration or the use of preservatives (see Cannabis Cocktail sidebar).
The Vessl backstory is fascinating. It all started with Scottish inventor Bernard Frutin's invention of a pressurized closure and delivery device that, upon opening, automatically propels and instantly mixes its liquid contents into a base container. When Walter Apodaca, a 25-year veteran of the beverage industry with stops along the way at Miller Coors and Coca-Cola, encountered it and saw its potential, he helped found a company called Gizmo Beverages, now located in Tempe, AZ, to license and commercialize the Vessl technology. He also realized that the technology had to be commercially proven before anyone would consider an investment in the company or pay for use of the technology. So, after securing the global rights to the technology for beverage use, he recruited fellow beverage veteran Daniel Montoya to help launch Tea of a Kind, a ready-to-drink line of teas, as proof of concept. Launched in August of 2012, it's currently available in five flavors in 10 Western states. Shortly after its launch, it was named the best RTD tea or coffee at the American Beverage Association's InterBev trade show.
One look at the photo of the Tea of a Kind four-pack explains how Vessl technology can help reduce the number of one-way disposable plastic bottles that enter the marketplace. The 16-oz PET bottle gets used four times. After the consumer drinks one serving of tea, he or she refills the same bottle with tap water and twists on a refill Vessl closure. The four-pack sells for about $6.99.
The sustainability angle is taken a step further in the case of Phyto2Go, a line of Nutrilite brand immunity support drinks from Ada, MI-based Amway that deliver vitamin C, zinc, and phytonutrients from plant concentrates and extracts. Amway markets this product in cartons of six units with one bottle included. But unlike Tea of a Kind, the bottle Amway provides is made of TritanTM copolyester from Eastman, so it's dishwasher safe and reusable. Amway also markets Phyto2Go in a 24-count package of Vessl units sans bottle.
Vessl Founder and CEO Apodaca sees the sustainability advantages inherent in Vessl as a game-changer. "We can put about 700,000 closures on a single truckload," he points out. "It would take more than 15 truckloads to ship the same number of half-liter bottles."
With a handful of commercial applications now out in the marketplace, the business entity known as Gizmo Beverages has been phased out and is being renamed Vessl Inc. "It's because we're getting into other applications that are outside of beverage, things like skin care products for example, so technically we are not a beverage-only company anymore," says Co-founder and Vice President of Operations Montoya.
Business model
While Vessl Inc. will continue selling Tea of a Kind, the company also is focused on supplying the Vessl closure to CPG companies whose products stand to gain from using the innovative pressurized closure. A co-packer near Tempe uses Vessl-owned equipment to fill and pressurize the Vessl closures used for the Tea of a Kind line. The same equipment can also be used to fill closures for any customer that uses the Vessl closure. In an alternative scenario, Vessl can provide the equipment required if a customer wants to fill and pressurize the Vessl closure in-house.
As for fabrication and assembly of the two Sub-Assemblies that make up the Vessl itself, that's done by RPC out of its Slovakia facility. According to Apodaca, there are several varieties now in production, as well as some new ones (even a dual-Tank version) in development. But fundamentally the construction of the Vessl—including the version used on Tea of a Kind—runs along these lines.
A Casing Sub-Assembly consists of an injection-molded PP Casing and an injection-molded polybutylene terephthalate (PBT) Spike; the two are snapped together.
A Closure Sub-Assembly has four parts. An injection-molded PP Closure is overmolded over a PBT Tank, and it's this Tank that holds the liquid active ingredient. A type of polyester, PBT is a thermo-plastic engineering polymer often used as an insulation in the electronics industry. Compared to PET, PBT has a slightly lower strength and rigidity, slightly better impact resistance, and a slightly lower glass transition temperature. It's resistant to solvents, shrinks very little during forming, is mechanically strong, and is heat-resistant to 150 deg C. The remaining two pieces of the Closure Sub-Assembly are the Seal and the Skeleton. The Seal, made of rubber nitrile, plays the essential role of hermetically sealing the liquid concentrate and the nitrogen gas inside the Tank. The injection-molded PP Skeleton and the rubber nitrile Seal are snapped together, inserted into the Closure/Tank component, and ultrasonically welded in place.
In a minute we'll get to the customized and sophisticated equipment that fills the liquid concentrate and the nitrogen gas into the Tank of the Vessl. But first a look at how this novel technology operates in the hands of the consumer. As the threaded closure is twisted counterclockwise, an outer set of threads between the Closure Sub-Assembly and the Casing Sub-Assembly causes the Spike that is part of the Casing Sub-Assembly to move in relation the rubber nitrile Seal. With that, the pressurized contents of the tank escape into the water below at approximately 105 psi.
Filling and pressurizing equipment
So what about the equipment used to fill and pressurize the Vessl closures? It's built by Nuspark, a Canadian firm that also is an investor in Vessl Inc. Most of the equipment so far has been of the semi-automatic variety, since volumes haven't required high-speed or highly automated systems. Montoya says that where cannabis beverages are concerned, smaller semi-automated systems will initially be the preferred approach. Such products can't be shipped across state lines, he points out, so volume requirements will need to be customized to address the local needs. Nuspark is equipped to design and build equipment to satisfy any volume requirement.
The one line where automation is being deployed is at the Tempe, AZ, co-packer with whom Vessl Inc. has partnered. That's where a Nuspark cap assembly and filling system integrated with a cap-handling system from Morrison Container Handling Solutions is capable of cap assembly, filling, nitrogen pressurizing, labeling, and flow wrapping at 160 pieces/min (see video at beginning of article).
It begins with operators dumping the two Sub-Assemblies into their own floor-level hoppers, one just a few feet beside the other. A flighted conveyor brings the parts up to a centrifugal bowl feeder, one for Closure Sub-Assemblies and one for Casing Sub-Assemblies. Closure Sub-Assemblies are oriented, single-filed, and conveyed beneath a pick-and-place device that, with each cycle, mechanically picks eight Closure Sub-Assemblies and places them in the eight pockets of a cassette. Dozens of these cassettes are mounted on a track that resembles an oval-shaped tractor tread. The cassettes carry Closure Sub-Assemblies through the filling and assembly process and then travel underneath to return for another cycle.
The eight-across Closure Sub-Assemblies move into a filling station where an eight-nozzle, servo-controlled, precision filler from Hibar puts 3.5 mL of liquid concentrate into the tank of each Closure Sub-Assembly. The cassette then indexes to the next station, where another pick-and-place unit places eight Casing Sub-Assemblies onto eight filled Closure Sub-Assemblies. The Casing Sub-Assemblies are oriented, single-filed, and fed into the Nuspark system in much the same way as the Closure Sub-Assemblies are.
The next station is occupied by an array of grippers. Nuspark's Boris Motskin describes how they operate. "Essentially it's a magnetic torque transfer orientation assembly. Tooling holds each Closure Sub-Assembly from the bottom. Then from above, the system grips each Casing Sub-Assembly and rotates it until the threads on the Closure Sub-Assembly are correctly aligned with the threads of the Casing Sub-Assembly. Remember, these are round parts and there's no way of knowing the orientation of their threads once they get fed in from their respective bowl feeders. Also, each gripper has a clutch on it to make sure that it stops rotating once the two parts are correctly aligned."
The next functional station is a 16-cavity heating tool. It closes on two rows of eight parts with each cycle. "The clean room is quite cold, so we heat the oriented parts for a few seconds to soften the plastic and make it more pliable," says Motskin. "Because the thread on the Closure Sub-Assembly has to soften enough so that the thread on the Casing Sub-Assembly can slip past it in the next station." In filling environments above 77 deg F, the heating station is not needed.
The next station to which Motskin refers consists of eight dual-acting cylinders that perform two critical functions. As soon as they descend onto the eight parts, 1.5 cc of nitrogen gas under 130 PSI is injected into the Tank that holds the 3.5 mL of liquid concentrate. "As soon as we reach the filling target, we engage the second action of the dual-acting cylinder, which snaps the Casing Sub-Assembly down into the Closure Sub-Assembly. Once the two are snapped together, the tank is hermetically sealed. Finally, an overhead pick-and-place device picks eight finished pieces and puts them on a discharge conveyor." Be sure to view this animated version of how the Vessl is pressurized and filled (pwgo.to/3368).
Coding and checkweighing
Mounted on the discharge conveyor, a Series 2200 belt conveyor from Dorner Mfg., is an ink-jet coder from Videojet that imprints lot and date code on the side of each Vessl. Just past the coder is checkweigher from Mettler Toledo that checks the weight of each filled cap. Any cap outside of pre-set parameters is automatically rejected.
At this point, depending on the application, the cap may have a pressure-sensitive label applied with flavor identification, or instructions on how to twist to release the contents, or other messaging depending on the product being filled. The labeler is a Model 6600 from Collamat.
Now the caps go one of two ways. Either they're bulk-bagged so they can be delivered to the contract packager in Tempe for application to a filled bottle of Tea of a Kind or Phyto2Go, or they are transferred to a flow wrapper so that each can be individually wrapped in clear film. The cap labeling and transfer to the flow wrapper used to be done manually. But it was automated about a year ago when label supplier Smyth referred Montoya to Morrison Container Handling Solutions. Now, as caps are conveyed past the static checkweigher, they are conveyed straight into the pressure-sensitive labeler and then straight into a PFM flow wrapper. Making this possible is the cap handling system supplied by Morrison, which works as follows.
A timing screw inverts the caps and drops each one into one of the many pucks that are mounted on a long oval-shaped track. The pucks carry the caps beneath the Callamat pressure-sensitive labeler. Then each puck releases its cap into a timing screw that turns the cap 45 degrees before depositing it on a conveyor that feeds the cap into another Morrison timing screw. This last timing screw advances caps forward and drops them on a flighted conveyor running at a right angle into the PFM flow wrapper. See the 1:45 mark of this video to see how it all works (pwgo.to/3369).
With closure-making by RPC nailed down, and with automated packaging solutions from Morrison and Nuspark now in place, Apodaca says Vessl Inc. is more than ready to take on the "big players" in the consumer packaged goods world, no matter how many units they may ask for. He notes that ever since May of 2017 when Vessl exhibited with RPC at interpack, requests have been pouring in. In one especially intriguing application, the Vessl closure will be loaded with 100% pure oxygen and applied by way of a specialized adapter to a bottle of wine for instant decanting upon opening. "It will do in seconds what exposure to air will do to wine in a decanter over the course of a couple of hours," says Apodaca.
To say that Apodaca is excited about Vessl's potential would be the understatement of the still new year. And it's not just beverage applications he has in mind. Household and gardening chemicals, health and beauty aids, personal care, neutraceuticals, and pharmaceutical products are all beckoning.
Excited though he is, he admits that Vessl is a technology with some unique challenges. "For example, not every neck finish has the same shape and diameter, so a lot of what we do is development work with companies to determine how best to make Vessl mesh with their application," says Apodaca. But the team at Vessl has made great progress on this development work, he adds. "We can customize the closure to fit a wide array of base containers made of plastic, glass, or aluminum. And we can fill the closure for our customer or equip them to do it themselves in their own facility."
No wonder he expects 2018 to be quite a year for Vessl.
Cannabis cocktail
Vessl Inc.'s CEO and Founder Walter Apodaca believes the 2018 launch of Kalvara, a cannabis cocktail, holds great potential. Nor is he worried by the uncertainty generated by the January 5 announcement by Attorney General Jeff Sessions that leaves it up to federal prosecutors to decide what to do in cases where state rules contradict federal drug law. As he puts it, "Rolling back marijuana in places like California or Colorado would be like reinstating Prohibition."
The packaging format for Kalvara is an injection stretch blow-molded PET container that holds 2 oz of water (allowing a 1-oz headspace for the nitrogen gas that comes out of the Vessl closure). One filled and capped bottle occupies a stylish paperboard carton that includes three additional individually film-wrapped Vessl units each containing a 10-mg serving of the THC beverage. After consuming the first bottle, the consumer simply refills the bottle with water and twists the Vessl to release the THC from its nitrogen-pressurized Tank and into the water for the next three servings.
Because cannabis can't be shipped across state lines, Vessl Inc. can't possibly rely on its contract packager in the state of Arizona to fill caps with THC oil extract. So a local bottling and distribution model has been established where, in each state, a cannabis producer will be authorized to fill Vessl units with THC extract and nitrogen-pressurize them. Virdi LLC, a subsidiary of Vessl, will supply the bottles, labels, packaging, Kalvara name, and beverage concentrate. By creating Virdi, Vessl Inc. is able to participate in a product category having tremendous potential while remaining legally and completely separate from the cultivation, handling, processing, sale, or distribution of marijuana. The local bottler and distributor also will purchase from Virdi the Nuspark filling and pressurizing system required, though not the 160/min eight-up system used for Tea of a Kind and other high-volume products. Instead, Nuspark has designed a semiautomatic two-up system that works pretty much the same as Nuspark's high-speed system except at lower speeds. Of course if volumes warrant it, the bottler/distributor could always purchase machines capable of higher capacity and volume.
One more thing about Kalvara. "We employ some technology that allows us to convert the cannabis oil into a water-soluble nanoemulsion," says Apodaca. "Consequently, our beverage clears some really important hurdles that previously couldn't be cleared in the cannabis space. First, it has an additive- and preservative-free shelf life of two or three years. Second, it's precisely dosed, which addresses a huge shortcoming inherent in other edibles. And third, because the active ingredients are delivered in nanoparticles, it has a faster onset. Instead of waiting 30 or 40 minutes for the marijuana to affect you, onset is within five to 14 minutes. This prevents a common problem in the edible marinuana space, where people take a second dose after 30 minutes because they feel nothing is happening and then they wind up taking more than they should have and have a miserable experience and never want to try it again."