"POLARIS" NP-15: Palletizer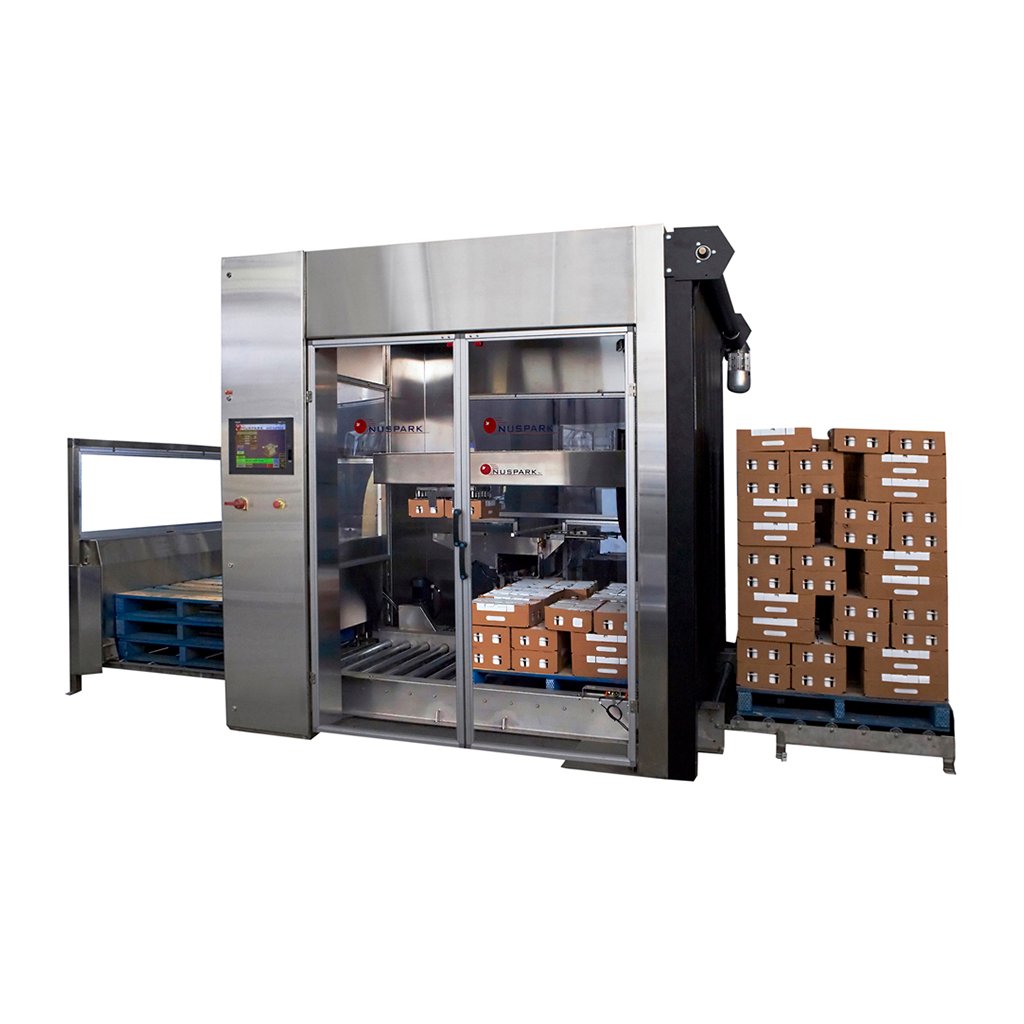 "POLARIS" NP-15: Palletizer
Body
A state of the art fully automatic palletizer machine; staging empty pallet, loading the product, and discharging the full pallet downstream. A three stage operation designed to adapt to your plant layout.
Robot capable in positioning cases in 4 axis (x,y,z and full 360°rotation)
Capable of running up to 15 picks per minute
Ability for multiple case/product pick up for higher speed applications
Pallet magazine holding up to 15 pallets with automated feed system
Automatic pallet staging and discharge
Standard stainless steel frame
Complete wash-down design available
Technical Parameters
Drive
AC motor case transfer, servo drives (4-axis loader)
Speed
POLARIS NP : Up to 15 picks per minute
Product Size Range
Per Project Specification.
Case Size Range
Length: 5" (127mm) – 24" (610mm) ;
Width: 5" (127mm) – 24" (610mm) ;
Height: 1" (25.5mm) – 20" (508mm)
Pallet Size
Width: 48" (1,219 mm.) max.,
Length: 48" (1,219 mm.) max.
Payload
up to 100 kg (220 lb) (multiple case pick up)
Stacking Height
65" standard height (extension available)
Magazine Capacity
10 pallets
Frame
Complete Stainless Steel Construction
Guarding
Anodized Aluminum and Polycarbonate guarding interlocked with door safety switches
Finish
Powder coat epoxy. All parts in contact with product are stainless steel.
Electrical
– ELAU C-400 Programmable logic motion controller; – Color touch screen HMI; – 3-color stackable warning lights; – NEMA 12 wiring and enclosures
Pneumatics
"FESTO"
Installation Requirements
Power: 480 VAC, 30 AMPS, 3 Phase. Control voltage 24VDC. Air: 90 PSI, 5 cfm