NCP-25: Single Cell Case packer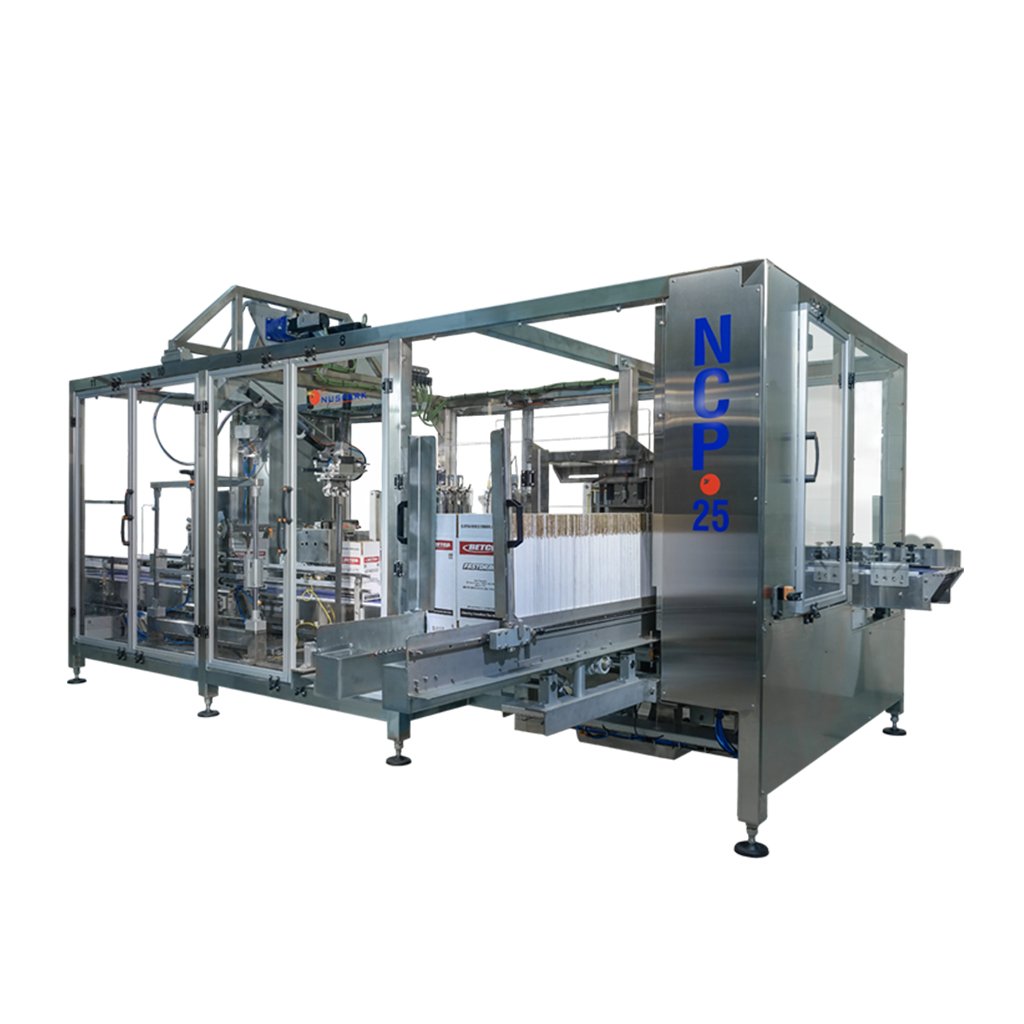 NCP-25: Single Cell Case packer
Body
The single cell case packer combines three separate operations into a single unit on your shop floor. The case packing machine will erect the case, load the product and seal the case all within one frame.
3 in1 single cell technology – erect, load, and seal on one frame
DELTA Style 2 axis robot – single head or dual head
Powerful ELAU Servo motion control platform
Precise, Repeatable technology
High speed top load up to 25 cases per minute
Smallest industry footprint – 160″ length X 60″ width
Proven "Pin & Dome" case erection technology – no vacuum
Heavy duty welded tubular steel frame
No tools changeover – generally less than 15 minutes
Innovative high precision (all servo) pick and place (low maintenance design)
Technical Parameters
Drive
AC Motors (Case and product transfer), Servo Drives ("Delta" Loader)
Speed
NCP-25: Up to 25 cases per minute
Case Size Range
Width: 5" (127mm) – 16" (405mm)
Height: 4" (100mm) – 16" (405mm)
Length: 6" (152mm) – 24" (610mm)
Adjustments
Threaded screws, hand wheels and hand knobs with position pointers and scales.
Case Sealing
Two Tape Heads (2" or 3" tape) or "Nordson" Glue system.
Magazine Capacity
4 ft. (~150 cases)
Frame
Stainless Steel
Guarding
Full length polycarbonate with extruded anodized aluminum frames.
Finish
All parts in contact with product are stainless steel, anodized aluminum or plastic.
Electrical
"ELAU" C-400 Programmable logic motion controller Color touch screen HMI.NEMA 12 wiring and enclosures.3-Color stackable warning lights.
Pneumatics
"FESTO"
Installation Requirements
Power: 230 VAC/30 Amps. or 480 VAC/15 Amps. 3 phase, 50/60 Hz Air: 90 PSI, 10 cfm.